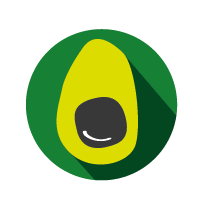 ...From Mexico. They are harvested and imported straight to NY where we control and scrutinize the ripening process to perfection.

.....HAAS avocados and may vary in size depending on the season. When ripe, the skin becomes a dark purplish-black and yields to gentle pressure.
Order one time or sign up for weekly subscriptions with great features:
✓ Pause or cancel your subscription
✓ Change quantities
✓ Change your shipping frequency
✓ Add products to your subscription
✓ Update billing and shipping info
✓ And more....
Gifts: Yes! We can send avocado on your behalf.

Here is our latest delivery chart. We are working on expanding our delivery radius so please
contact us
if your zip code is not listed. We reserve the right to cancel any order which does not answer the listed min order requirements.